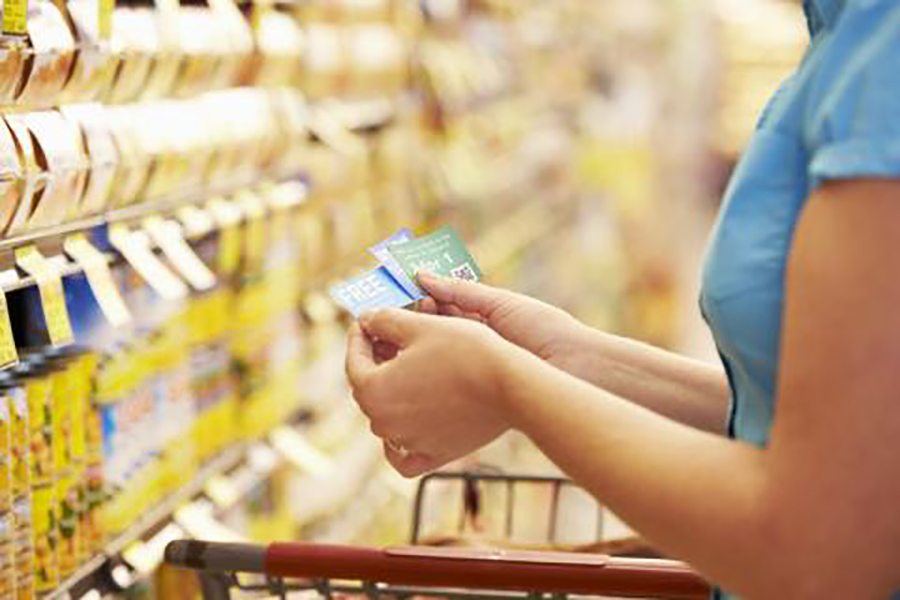 Most shoppers would use coupons at grocery stores more often if they were more available
Canadians want to trim their grocery bills, but many find coupons are more trouble than they're worth.
As food prices continue to climb, Agri-Food Analytics Lab at Dalhousie University, in partnership with Angus Reid, conducted a survey on cost-saving methods such as couponing and volume discounting. The survey revealed a lower-than-expected uptick of coupon clipping among Canadians.
While 45% of Canadians have never used coupons before, 15% of Canadians are using coupons more often now, compared to six months ago. About 33% of Canadians are using coupons the same way. Of Canadians who were already using coupons, only 11% are using them more often.
Part of the reason could be the dearth of coupons: 68% of Canadians would use coupons more often if they were more available.
"Coupons aren't getting into people's homes like they used, and so consumers aren't getting triggered by them to make a purchase," says Janet Music, research assistant at the Agri-Food Analytics Lab. While there are apps and online platforms that help shoppers save money, Music says, "You have to go searching for [deals]. They don't come to you anymore."
And, even if shoppers do find coupons, they might not be all that relevant. "The coupons might be for products that people don't use, or people live alone and don't have use for more than one type of product if it's a 'buy one, get one free' coupon or a multi-buy," says Music.
While there are plenty of would-be coupon clippers in the country, the research reveals further obstacles. Nearly half of Canadians (49%) feel most coupons have too many restrictions.
In most cases, for example, coupon stacking—using more than one coupon on one item—is not allowed or can only be used on certain days. In addition, coupons can't be used for already discounted food items. A total of 45% of Canadians feel the savings from most grocery store coupons are not worth the effort.
The inconvenience of using coupons at the store (or perhaps, the politeness of Canadians) also appears to be a barrier. A total of 38% don't like using coupons at the grocery store because it holds up the line at the checkout.
Volume discounting (buying products in bulk or larger quantities to save money) appears to be popular with Canadians, but the researchers say the practice raises questions about fairness and ethics. While 73% of Canadians try to take advantage of volume discounts most of the time, 54% feel volume discounts are unfair to smaller households/single people. In addition, 47% say volume discounts lead to more food waste.
"A single shopper may not want to buy three one-litre tubs of yogurt—they just want one, so why can't that be at the sale price?" says Music. Offering a deal on a single product is something that "could be easily done for consumers and it would cut back on food waste."
As food inflation continues to rise, the researchers believe the onus is on grocery retailers and manufacturers to help Canadians save money. While profit margins in the grocery industry are notoriously thin, Music says both retailers and manufacturers bear some of the responsibility of being good community members and corporate citizens.
"They could step up and make it easier for people to save money," says Music. "Perhaps you don't need a new iPhone—you can stick with the phone you have—but it's not like you can switch out buying food and eating."
In their most recent quarterly earnings calls with analysts, executives from two of Canada's largest grocers said they were working closely with food manufacturers to keep food prices low.
Loblaw CFO Richard Dufresne and Empire CEO Michael Medline said their respective teams were working hard to negotiate competitive prices, and both were offering promotions where they could.
A total of 1,501 Canadians were surveyed in March 2022.
With over 10 years leading the Canadian online coupons marketplace and 150 Million coupon issued we know coupons. We've worked with 90% of Canada's leading consumer packaged goods brands providing them with the online coupons and cashback offer solutions that generate real value for their business. Whether your strategic objective is customer acquisition, customer lift (Increased transaction size and frequency) or customer retention webSaver can help.