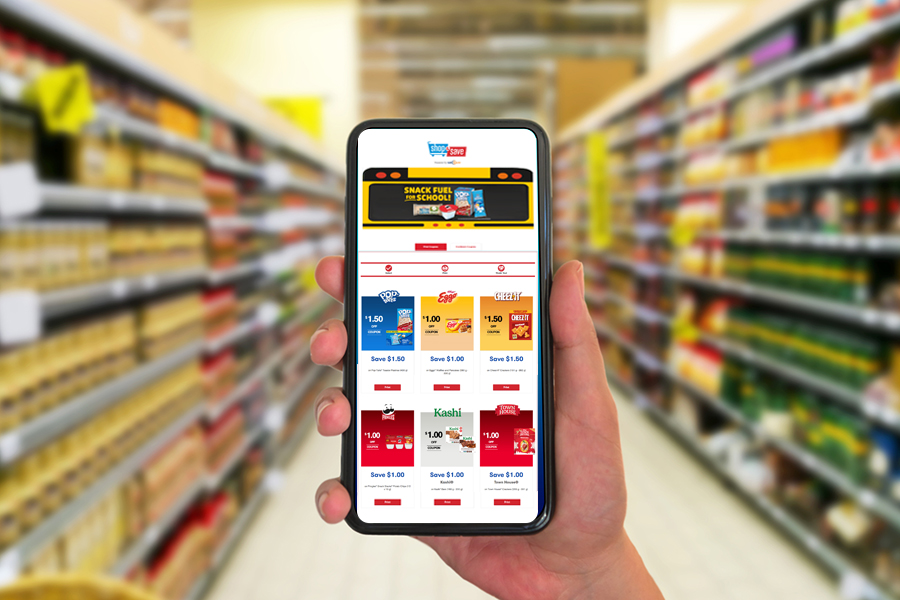 Savvy Consumer Packaged Goods Brands understand the positive impact an effective promotional marketing strategy encompassing online coupons, cashback offers, and other elements can have on their Brand, both in the immediate and long term.
However, selecting the right partner to work with on your campaign can be just as important to ensure the maximum value is generated from the resources invested. Below we provide ten reasons why webSaver Coupon Solutions is the right partner to work with on your next Online Coupons and Cashback Offers initiative.
1. Our Coupon and Cashback Solutions support your Brand Marketing Strategy
We understand coupons are part of a bigger marketing strategy and will work with you accordingly. One thing is certain, consumers are looking for coupons as a means to save money: 75% as per the most recent surveys. They're trying new Brands, they're switching Brands and products. Consumers are drastically changing their behaviours and are open to relevant Brand offers right now.
Whether your strategic objective is consumer acquisition, consumer lift or consumer retention now is the time to be in close contact with your customers.
2. More than 10 years of experience and a proven track record of creating value for Brands from Online Coupons
For over a decade we've been driving innovation in the Canadian online coupons marketplace. In this time we've issued over 150 Million coupons, you could say we know coupons. We've worked with some of the leading global Consumer Packaged Goods Brands on their promotional marketing strategies providing them with the online coupons and cashback offer solutions that generate value for their business.
Our leadership team has over 30 years of experience in the North American coupon industry and understands how to create value for Brands through the use of Online Coupons and Cashback Offers.
3. We are trusted by the leading Consumer Packaged Goods Brands in Canada
We've worked with 90% of Canada's largest CPG Brands on their Coupon and Cashback Offers strategies to help them acquire new customers, increase engagement and purchases from existing customers, and to retain customers for the long term and increase Brand loyalty. Some of these leading Brands include Pepsico, Kellogg's, Kraft Heinz and dozens of others.
4. webSaver provides a complete Online Coupons and Cashback Offers solution
The webSaver Solution comprises a complete end to end solution to execute online coupons campaigns. It encompasses Strategy Planning, Campaign and Creative Development, Campaign Execution (And promotion if required), Campaign Performance Assessment encompassing Reporting, Data and Analytics as well as the retained learning to ensure that the next campaign is even more successful.
By working with webSaver your Brand will be able to integrate online coupons and cashback offers as a key value driver in your future marketing campaigns on a turnkey basis, at a time when consumers are clamoring for these solutions the most.
5. Many Coupon and Cashback Offer distribution options to satisfy your consumers' needs
Consumers have a variety of preferences as to how they wish to engage with a Brand's Coupons or Cashback Offers. Mature consumers used to paper coupons may elect to receive Mail to Home Coupons that they can bring into the store for redemption, whereas younger Mobile first consumers may prefer to engage with quick and easy, paper free Cashback Offers because they can simply take a picture of the receipt, submit it and get Cash Back.
Brands may elect to deliver Coupon offers in a specific format because they want to make an impact, in which case they often elect Mail to Home Coupons, which are more impactful than Print at Home Coupons. In short webSaver has the Online Coupons and Cashback Offers solutions your consumers love, it's simply a question of deciding which one works best for your marketing challenge. Deploy one method or all three as many of our leading Brands elect to do.
6. Flexible Coupon Solution options to address your Brand's unique requirements
Brands have a variety of needs on how to implement their Online Coupons and Cashback Offers initiatives. Whereas some Brands may have well developed mature websites that need to have coupons   integrated into that existing environment, other Brands may require individual Microsites built on an ongoing basis to promote unique offers throughout the year.
Whatever your requirements webSaver has the solutions you need. Whether it's Stand Alone Coupon Pages, Brand Coupon Microsites, Fully Embedded Coupon Experience On Brand Website, Coupon Media And Promotion, or however else you wish to make your offers available to consumers webSaver can make it happen in a fast and efficient manner.
7. Industry leading Client Services team
In addition to our Coupon strategy and Coupon technology solutions webSaver is recognized across the industry for its dedication and commitment to the highest levels of Client satisfaction. When working with us you will have a dedicated and knowledgeable account team, who are among the most responsive in the industry,  making sure that your campaign is executed at the highest levels to ensure performance.
8. webSaver Media Solutions and webSaver.ca
One of the reasons we understand Canadian grocery consumers and the Canadian coupon ecosystem so well is that we own and operate Canada's largest online coupons website: webSaver.ca. This unique asset allows us to enhance the reach, awareness and visibility of your campaign to Canadian consumers through placement on the webSaver.ca website and other means.
For example, you have your own eMail list but it is not large enough and you need greater reach? We can promote your coupons with our eMail lists and webSaver.ca website to a large audience of motivated Canadian shoppers. webSaver's audience and reach across Canada will help boost your campaigns.
9. Campaign Reporting, Data and Analytics Insights
Assessing the performance of a Coupon campaign is critical to ensuring the success of the marketing strategy. With webSaver Solutions you will have all the detailed reporting information necessary to understand your campaign's performance and more importantly to ensure that future campaigns perform even better.
With webSaver Solutions you will have access to real time campaign activity reporting including Daily Redemption data to allow for faster and better informed decision making. We can also provide Brands with data including receipt purchase items beyond your brand purchases to help you obtain a better understanding of your customers and your Brand's share of basket.
10. We give back to the Community
We believe in giving back and have contributed to over sixty charities since our inception. Our largest partner has been Breakfast for Learning where we have helped out at events in Ontario and Quebec while donating over $100,000.
That's ten reasons to work with webSaver Coupon Solutions on your next Online Coupons and Cashback Offers promotional marketing initiative, but we assure you there are many more.
Consumer grocery buying behaviours are changing drastically as we speak. Buying preferences are evolving at a rapid pace and 75% of grocery shoppers are now actively seeking online coupons to save money on their groceries. Don't let your Brand get left behind in these changing times.
Contact Us to see how your Brand can utilize Online Coupons and Cashback Offers to attract new consumers, as well as engage and retain your best consumers.
With over 10 years leading the Canadian online coupons marketplace and 150 Million coupon issued we know coupons. We've worked with 90% of Canada's leading consumer packaged goods brands providing them with the online coupons and cashback offer solutions that generate real value for their business. Whether your strategic objective is customer acquisition, customer lift (Increased transaction size and frequency) or customer retention webSaver can help.